Are you stuck in a medical litigation case? Have you outsourced the medical record retrieval service yet? If not, then hiring a professional medical record retrieval service provider can help you to put special efforts on other important tasks. Studying and examining the case reports deeply and preparing details required for litigation and risk adjustment.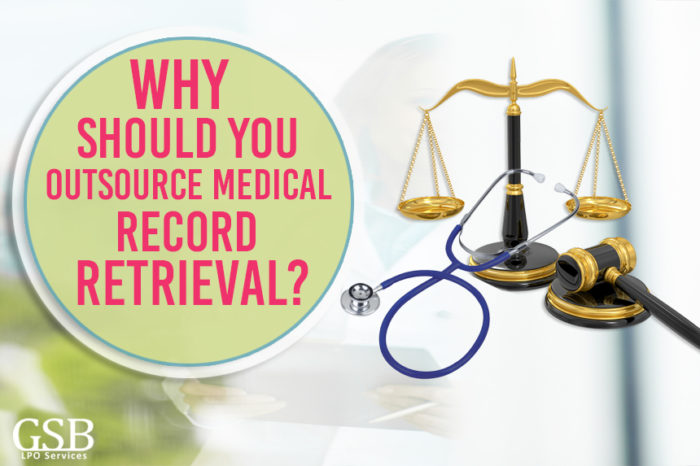 To get the advantage from the equal level of medical records retrieval efficiency and service provider relationships, the law firms and the legal agencies would require multiple amounts of efforts and resources which they could only get at a higher cost.
Increase Coherence
The fundamental expertise of medical record retrieval service providers is to retrieve the data as quickly as possible using the cost-effective methods. So that's why they get the records within few days, whereas the law forms would take weeks to get the records. Outsourcing the retrieval service can lead to more free hours that can be utilized by the staff to focus on other core areas for case settlement and adjustment. Also, the major benefit is saving the cost of staff with billable expenses.
Multiple Networks and Links
Medical record retrieval service providers have connections and relationships all over the country and they can work virtually on behalf of a firm. They make all the interactions with the information providers, being responsible for all of the relevant things. They know about the accurate approval forms required, collect the documents and make the follow-up calls and provide the medical records with safety and security. The benefit that the law firms get from the medical records retrieval service provider is to pay the cost once a month to them instead of multiple spending on the providers who provided the records.
Reduce Use of Paperwork
As we all know that healthcare industry is rapidly adapting the means of electronic medical records, therefore many law firms and legal agencies have also decided to go paperless so as to give their participation in the Go Green campaign, reducing the use of huge bundle of files and document storage shelves. To enhance the environmental sustainability, electronic records are easy to find whenever required, easy to share and store for lifetime.
High Security of Records
The medical records retrieval basically indicates the identifying the records and retrieving/collecting the data/information from various sources ensuring that the lowest cost is spent. Medical records retrieval service providers are the professionals who are well trained in finding the right data from the various sources and arranging them into meaningful manner. Also, the digital storage of these records enables the highest security levels so that the data is not shared with any third party member.